Banks face investigations over debt collection
State and federal regulators are looking into whether big banks passed along faulty information to debt collectors, who then used such information to pursue judgments against credit card customers. The Consumer Financial Protection Bureau, attorneys general in several states and other federal regulators are investigating paperwork and debt records that banks gave to debt collectors, sources say.
Reuters
(3/7)
Never take a promotion without negotiating pay
Don't let your employer pressure you into accepting a promotion before you've discussed a pay raise, Alison Green writes. Your negotiating power disappears as soon as you accept the offer. "If they put you off and push you to start doing the new job now, you need to hold firm: 'I'm not comfortable taking on a new job without discussing the terms, such as salary,' " she writes.
Ask A Manager blog
(3/5)
Start today at making your workplace great
Even entry-level employees have the power to make their workplaces better for everyone, Alan Henry writes. Start small by having a conversation with your manager about possible morale boosters. "The key ... is to be tenacious. You won't be able to just throw a suggestion at your manager or their manager and then walk away," he writes.
Lifehacker
(3/6)
Comet watchers get a treat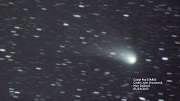 Reuters
The comet Pan-STARRS will make a close pass by Earth next week, with the best viewing days expected Tuesday and Wednesday for the Northern Hemisphere. This is Pan-STARRS' first trip through the inner solar system.
Yahoo/The Associated Press
(3/5)
Help SmartBrief cover SXSW Interactive!
SmartBrief will cover the South by Southwest Interactive Festival through Tuesday in Austin, Texas, and we need your help! SXSW has too many must-see events for our staff to cover, so we're turning to readers to help document the best panels as blog contributors. If you're headed to Austin and want to contribute to SmartBrief's blogs on social media, leadership, finance, food and beverage or education, check out our guest-post guidelines and send a note to Jesse Stanchak.
| | |
| --- | --- |
| | We are starting to get out of hunker-down mode, so what you have now is a bunch of cash hoarders who have decided to take that cash out of their balance sheets." |
Please contact one of our specialists for advertising opportunities, editorial inquiries, job placements, or any other questions.