Goldman economist sees lower likelihood of recession
The risk of recession has receded during the past few months, and further encouraging signs emerged when tax increases at the dawn of the new year failed to damp spending, Goldman Sachs economist Jan Hatzius says. Also encouraging, Hatzius says, is Republicans' apparent capitulation on trying to use the debt ceiling as a threat to gain more cuts in government spending.
MarketWatch
(2/19)
Share:






SEC considers tougher tech rules for trading platforms
Securities and Exchange Commission Chairman Elisse Walter is looking into rules that would force exchanges and other trading platforms to undergo a technological review to test how they respond to disruption. The proposal would convert voluntary "automation review policies" into mandatory testing.
Reuters
(2/19),
Bloomberg
(2/19),
The Wall Street Journal/Dow Jones Newswires
(2/19)
Share:






Business lending surges as banks seek growth
U.S. businesses are inundated with so many inexpensive loans that banks' margins are coming under pressure. Commercial and industrial loans increased 16% in 2012, according to SNL Financial. A Federal Reserve survey found narrowing loan spreads and relaxed lending standards.
The Wall Street Journal
(2/19)
Share:






CFOs remain pessimistic about world economy
CFOs worldwide are not anticipating a recovery in the near term, according to Deloitte Touche Tohmatsu's fourth-quarter Global CFO Signals survey. In North America, CFOs' views on prospects are low, despite an increase in respondents who expect better sales compared with the Q3 survey.
The Wall Street Journal/CFO Journal
(2/19)
Share:






8 ways to show you have the guts to be a leader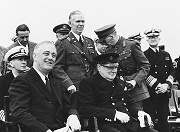 Roosevelt, Churchill/Reuters
There are many ways to show courage as a leader, writes Steve Tobak, managing partner of Invisor Consulting. Following your instincts even when everyone disagrees is one way. Another is taking risks that have a big downside and no safety net. Tobak provides six more examples in this post.
Inc. online (free registration)
(2/15)
Share:






How women can succeed in male-dominated fields
Women need to take extra care as they navigate a career in male-dominated professions such as finance, science and engineering, Heather Huhman writes. She advises women to find a mentor, to always display confidence and to watch and mirror successful male counterparts.
Forbes/Work in Progress blog
(2/19)
Share:






Shift in household demographics calls for business rethink
Shifting demographics of U.S. households have many businesses rethinking how they develop, package and market products. Single-parent, multigenerational, nonfamily and one-person households are chipping away at the "norm" that was mom, dad, 2.5 kids and a dog. This article details what ZIP codes are seeing the greatest shift and what the "new normal" might look like in years to come.
SmartBrief/SmartBlog on Leadership
(2/18)
Share:






Did you listen to the State of the Union address?
| | |
| --- | --- |
| No | 52.01% |
| Yes. Same old, same old | 39.56% |
| Yes. I'm excited about the new trajectory | 8.42% |
A slight majority did not listen to the State of the Union address, and of those who did, most thought there was nothing new to hear.
The Federal Reserve has kept interest rates artificially low for years. What do you see for the next five to 10 years?
| | |
| --- | --- |
| | Persistent deflation and very slow economic growth |
| | |
| --- | --- |
| | A devastating spike because of the Fed's monetary policy |
| | |
| --- | --- |
| | It doesn't matter because either scenario is fraught with problems |
| | |
| --- | --- |
| | I have no idea |
Jeffrey Martin becomes CFO of Mueller Industries
Martin has been interim CFO since October. He has been with the company since 1996 in accounting and management.
American City Business Journals/Memphis, Tenn.
(2/19)
Share:






Richard Meier is chosen as Owens & Minor's CFO
Meier was CFO at Teleflex for two years. Before that, he was with Advanced Medical Optics.
RTT News
(2/19)
Share:






Grey Poupon chases for a comeback
After a 16-year absence, Grey Poupon's "Pardon Me" TV commercial will reappear, this time during the Oscars. However, there is a twist: Instead of returning the Dijon mustard, the car speeds off and a wild chase ensues.
NBC News/The Associated Press
(2/19)
Share:






As leadership attributes go, courage is the big one."

-- Steve Tobak, managing partner of Invisor Consulting, writing for

Inc. online

Share:

         
Please contact one of our specialists for advertising opportunities, editorial inquiries, job placements, or any other questions.