Can Republicans retool for the digital age?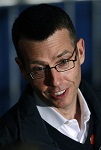 Plouffe/Reuters
Republicans have big problems both with their brand and with their use of new technologies on the campaign trail, according to GOP pollsters and other party insiders. To become competitive again, they say, the GOP must find its own version of David Plouffe, the Obama adviser who dragged his candidate's campaign into the Facebook and YouTube era. "Not having that is like Nixon not shaving before his first debate -- you've got to understand the world you're competing in," Plouffe says. "And I still don't think the Republicans are there."
The New York Times (tiered subscription model)
(2/14)
Share:





What Can You Learn from an Accelerator?
Imagine what it would be like to take a fresh look at your small business, to think and act like it was a startup all over again. What would you change? What could you do better? What time- and money-wasting bad habits could you stop? Click here to read Boomtown: Think Like a Startup
Quickie poll results: What did you think of the president's speech?
President Barack Obama's State of the Union address did not impress most of the respondents to our quickie poll. A little more than half of participants said they hated or disliked the speech. Only 31% had a positive impression.
| | |
| --- | --- |
| Hated it | 29.78% |
| Disliked it | 21.47% |
| Loved it | 18.96% |
| Neutral/no opinion/didn't watch | 17.51% |
| Liked it | 12.27% |
[Free eBook] Hacking Value Delivery: The CIO and the Age of the Customer
CIOs today have a wealth of opportunity available to them in the Age of the Customer, and they play an even more paramount role in their organization as enterprises become increasingly digital and customer-centric. Unfortunately, CIOs are also up against outdated notions of their role - and limited budgets. As a result, too few CIOs have fully embraced the opportunity to drive their businesses into the customer age. Learn how to make the cultural change to a customer-first approach with this free eBook. Get it now.
Executives cautiously welcome Obama's early-education plan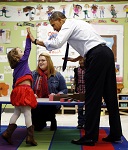 Obama/Reuters
The White House issued new details about the president's plan to ensure that every 4-year-old has access to preschool education. The plan, intended to ensure that America builds a strong and well-educated future workforce, received a cautious welcome from business leaders. "The evidence is, if we don't make this investment and we don't make it wisely, we're going to pay for it later," said real-estate executive and workforce-development advocate Bob Powers.
The New York Times (tiered subscription model)
(2/14),
Bloomberg
(2/14)
Share:





Author Justin Fox: Why economists like Obama's minimum-wage plan
Harvard Business Review online/HBR Blog Network

(2/13)




Share:

         
Strategist Karl Rove: SOTU address shows Obama is running on empty
The Wall Street Journal

(2/13)




Share:

         
Columnist Max Ehrenfreund: What does "middle class" even mean?
Washington Monthly online/Ten Miles Square blog

(2/14)




Share:

         
The unquenchable Marco Rubio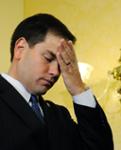 Rubio/Reuters
Sen. Marco Rubio's ill-timed water break distracted from the substance of his State of the Union rebuttal -- and it wasn't the first time the Florida senator has gotten a dry mouth mid-speech. This greatest-sips compilation shows a number of views of Rubio reaching for the bottle, even if it belongs to Clint Eastwood.
The Examiner (Washington, D.C.)
(2/13)
Share:





Please contact one of our specialists for advertising opportunities, editorial inquiries, job placements, or any other questions.