Filibuster draws response on domestic drone use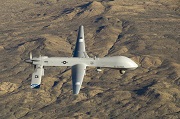 U.S. Air Force via Reuters
Sen. Rand Paul's 13-hour filibuster appears to have forced the president's hand, with Attorney General Eric Holder issuing a brief statement denying that the administration does not have the constitutional authority to use drones to target non-combatant citizens on U.S. soil. The statement contained some loopholes, but Paul appeared content with the response. Holder has indicated that President Barack Obama will address the public soon on drone policy, and observers say the president is moving toward a codification of drone use policy.
The Hill/DEFCON Hill blog
(3/8),
Politico (Washington, D.C.)
(3/8)
10 ways to inspire creativity in your staff.
Fostering creative business practices isn't as hard as it seems and can lead to smart solutions. Use these ten techniques to help inspire and encourage creativity in your staff. Read the article and learn 10 ways to get the creative juices flowing.
This week's poll results: No deal
Pessimism reigned this week as readers expressed strong doubt at Washington's ability to sort out the budget and debt debacle. More than a third of those responding to this week's poll say they believe that Congress and the White House will not reach a new budget deal before next year's midterm elections, and only a small fraction predicted that there will be an agreement in the near term to stop the budget cuts under the sequestration process. Full results are below. Next week: GOP 2016.

| | |
| --- | --- |
| Nothing. They will be unable to reach a new short- or long-term budget deal before the 2014 elections | 36.61% |
| Allow sequestration to go forward while negotiating a new short-term budget agreement | 23.94% |
| Allow sequestration to continue until new, long-term budget and tax reform legislation takes its place | 23.64% |
| Reach an agreement to suspend the sequestration cuts while a deal is being worked out | 8.05% |
| Reach an agreement on taxes and spending cuts to replace the sequestration | 5.82% |
| None of the above/other | 1.94% |
Whitepaper: SDN: How do you get there from here?
Are the growing data needs of mobile, cloud, big data and social threatening today's enterprise networks? Scalable processes, a phased integration approach and the appetite to optimize over time are key components of a modern network. It's how agile organizations prepare for the data needs of tomorrow.
Explore the whitepaper to start down the path toward SDN.
Unemployment drops to a 4-year low in new jobs report
Reuters
The U.S. unemployment rate fell to 7.7% in February, down 0.2 percentage points from the previous month to a four-year low, according to Labor Department figures. Employers added 236,000 jobs and private-sector pay ticked up 0.6%, with workers putting in more hours at higher rates. "Not only are the headlines good, but the details are good as well. You very quickly run out of superlatives in this payroll report," said economist Craig Alexander.
The Wall Street Journal
(3/8),
The New York Times (tiered subscription model)
(3/8),
The Washington Post/Wonkblog
(3/8)
The ROI of Privacy with TRUSTe Solutions
Investment in a Data Privacy Management Platform can deliver significant, positive financial returns for corporate bottom lines. The "Total Economic Impact (TEI) of TRUSTe" Study explains how Forrester Analysts calculated a 151% ROI for TRUSTe customers. Download the study now.
Political ads downplay impact of "sequester" cuts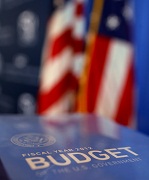 Reuters
Recent claims that the "sequester" spending cuts will mean only a 3% cut in federal spending are technically true, but ignore the fact that much of the budget is off-limits, writes Robert Farley. That means that the areas of government affected by the cuts will actually see markedly steeper cuts, with defense spending to fall by 8% and nondefense discretionary spending to fall by up to 6%.
FactCheck.org
(3/5)
Why the pundits loved Rand Paul's filibuster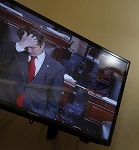 Reuters
The cable networks were all over Sen. Rand Paul's old-fashioned filibuster, and Stephen Colbert thinks he knows why. "Talking and talking and talking to fill hours of empty time -- it's the story cable news was born to cover," he says.
Comedy Central
(3/7)
Help SmartBrief cover SXSW Interactive!
SmartBrief will cover the South by Southwest Interactive Festival through Tuesday in Austin, Texas, and we need your help! SXSW has too many must-see events for our staff to cover, so we're turning to readers to help document the best panels as blog contributors. If you're headed to Austin and want to contribute to SmartBrief's blogs on social media, leadership, finance, food and beverage or education, check out our guest-post guidelines and send a note to Jesse Stanchak.
Please contact one of our specialists for advertising opportunities, editorial inquiries, job placements, or any other questions.