House passes interim measure to avert government shutdown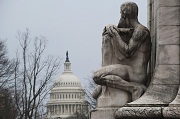 Reuters
The House passed a bill in a 267-151 vote that would fund government programs through Sept. 30, to avoid a shutdown March 27. Some attendees of a dinner meeting between President Barack Obama and Senate Republican leaders are more optimistic that Democrats and Republicans can reach an agreement on the budget and debt.
Reuters
(3/7),
USA Today
(3/6),
The Hill
(3/6)
Quarterly Small Business Leadership Report
Three industry heavy weights dish up the facts on what you need to know about the future of collaboration, increasing productivity and readying the office for the millennial workforce. Read the guide.
Have your career strengths become liabilities?
Qualities considered strengths in the workplace, such as creativity and preparation, can be debilitating if taken too far, author Jake Breeden says. For instance, a boss who is determined to be fair to everyone might end up rewarding poor performers. Take an online quiz to see whether you possess one of these "unexamined virtues."
CNNMoney/Fortune
(3/6)
Business tips from an octopus' tentacle
Some octopuses change color to blend in with their surroundings, but they do so by delegating decisions about coloration to individual skin cells, writes Rafe Sagarin. Business leaders, too, can often achieve better results by leaving key decisions to individual workers. "[D]ecentralized organization yields faster, cheaper, and more effective solutions to complex problems," Sagarin writes.
Harvard Business Review online/HBR Blog Network
(3/5)
Help SmartBrief cover SXSW Interactive!
SmartBrief will cover the South by Southwest Interactive Festival through Tuesday in Austin, Texas, and we need your help! SXSW has too many must-see events for our staff to cover, so we're turning to readers to help document the best panels as blog contributors. If you're headed to Austin and want to contribute to SmartBrief's blogs on social media, leadership, finance, food and beverage or education, check out our guest-post guidelines and send a note to Jesse Stanchak.
Engineers inside Sony viewed the hard disk technology used in Apple's iPod as beneath them, so they went their own way. These innovators had brains full of ideas. Their problem wasn't too few ideas. Their problem was too much narcissism"

-- Jake Breeden, a faculty member at Duke Corporate Education, writing in "Tipping Sacred Cows: Kick the Bad Work Habits That Masquerade as Virtues," as quoted by

CNNMoney/Fortune
Please contact one of our specialists for advertising opportunities, editorial inquiries, job placements, or any other questions.