Grassley wants answers on alleged racist behavior at Justice Dept.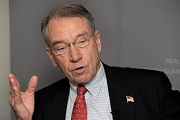 Grassley/Reuters
Republican Sen. Chuck Grassley asked Wednesday why the Justice Department is still employing people who were found to exhibit "hostile, racist and inappropriate behavior," after a report was released by Inspector General Michael Horowitz revealing racial issues within the Civil Rights Division. The division is lead by Assistant Attorney General Thomas Perez, who is being considered for labor secretary.
The Washington Times
(3/13)
10 ways to inspire creativity in your staff.
Fostering creative business practices isn't as hard as it seems and can lead to smart solutions. Use these ten techniques to help inspire and encourage creativity in your staff. Read the article and learn 10 ways to get the creative juices flowing.
How much do you know about the new pope?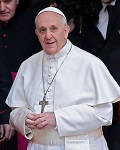 Francis/Reuters
The choice of 76-year-old Jose Mario Bergoglio as the newly named Pope Francis was a surprise to many. The Argentine son of Italian immigrants would ride the bus to work when he served as archbishop of Buenos Aires. He is the first member of the Jesuit order elected to the papacy, as well as the first pope chosen from the Americas.
Politico (Washington, D.C.)
(3/14)
Expecting the zombie apocalypse? Maybe you're just unhappy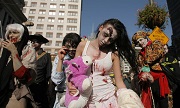 Reuters
The popularity of zombies tends to spike when the population experiences a bout of unhappiness brought on by events such as economic distress and the Iraq war, according to Clemson University English professor Sarah Lauro. "We are more interested in the zombie at times when as a culture we feel disempowered," Lauro said. "And the facts are there that, when we are experiencing economic crises, the vast population is feeling disempowered."
WNBC-TV (New York)/The Associated Press
(3/11)
The ROI of Privacy with TRUSTe Solutions
Investment in a Data Privacy Management Platform can deliver significant, positive financial returns for corporate bottom lines. The "Total Economic Impact (TEI) of TRUSTe" Study explains how Forrester Analysts calculated a 151% ROI for TRUSTe customers. Download the study now.
Please contact one of our specialists for advertising opportunities, editorial inquiries, job placements, or any other questions.