Q-and-A with Drexel DeFord
Drexel DeFord, chief information officer of Steward Health Care in Boston, talks about meaningful use, moving operations to the cloud, protecting patient data and finding skilled employees to meet the booming demand in health IT. "I think the biggest challenge [in 2013] will be the prioritization of limited IT resources, coupled with managing expectations of both leaders and end-users," he said. "Good collaboration and strong governance will help make sure the company is putting first things first. Plan projects well. Carefully execute those plans. And don't forget about the fundamental HIT infrastructure." Read the interview.
Share:





These are the stories read and shared most by CHiME's Healthcare CIO SmartBrief readers in 2012
What do you feel is the most important concern in health IT?
| | | |
| --- | --- | --- |
| 38% | | Security and privacy of electronic health information |
| 38% | | Having HIT solutions to get us through health care reform |
| 13% | | Achieving meaningful use |
| 13% | | Health information exchange |
Share:





As part of your EMR adoption initiatives, are you planning for ongoing clinical IT systems support for physicians?
| | | |
| --- | --- | --- |
| 36% | | Yes, well positioned with existing IT help desk and staff |
| 26% | | Maybe, but a clinical help desk is probably too costly |
| 23% | | No, a clinical help desk is not a priority at this time |
| 17% | | Yes, currently exploring clinical help desk options |
Share:





Where is your organization in its stage 2 meaningful use efforts?
| | | |
| --- | --- | --- |
| 35% | | Still working on stage 1 |
| 25% | | Have several goals to achieve; hope to attest in 2013 |
| 25% | | All or most stage 2 goals are covered; should attest quickly |
| 16% | | Will start working on stage 2 in 2013 |
Share: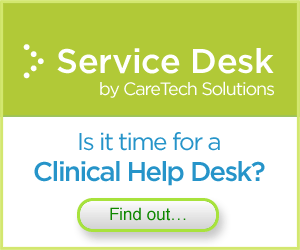 Product announcements appearing in SmartBrief are paid advertisements and do not reflect actual CHIME endorsements. The news reported in Smartbrief does not necessarily reflect the official position of CHIME.
CHIME/HIMSS CIO Forum
March 3
New Orleans Riverside Hilton Hotel
New Orleans


Share:

       
Healthcare CIO Boot Camp
April 13 to 16
University of Chicago
Chicago


Share:

       
These are the quotes CHiME's Healthcare CIO SmartBrief readers shared most in 2012
To avoid criticism do nothing, say nothing, be nothing.
To acquire knowledge, one must study; but to acquire wisdom, one must observe.
Even if you're on the right track, you'll get run over if you just sit there.
The price of anything is the amount of life you exchange for it.
Cooperation is the thorough conviction that nobody can get there unless everybody gets there.
If you do not feel yourself growing in your work and your life broadening and deepening, if your task is not a perpetual tonic to you, you have not found your place.
The secret of managing is to keep the guys who hate you away from the guys who are undecided.
Now and then it's good to pause in our pursuit of happiness and just be happy.
Live rich, die poor; never make the mistake of doing it the other way 'round.
A teacher affects eternity; he can never tell where his influence stops.