Startup puts a new spin on TV, movie watching
A startup called GetGlue is pioneering the realm of social TV, allowing users to share their thoughts about programming and collect virtual badges. The company has yet to achieve profitability but has managed to bring in $24 million in funding. The company contemplated a merger with a competitor but ultimately decided not to go through with the deal because of differences in focus. "Sometimes the best deals are those you don't make," said Sean Besser, who runs business development for GetGlue.
Forbes
(3/14)
Covidien CEO: How to make crucial decisions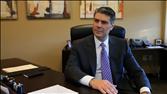 Wall Street Journal
Businesses must know their key challenges, and for hospitals, those are blood loss, infection and re-admission, Covidien CEO Jose Almeida says in this video interview. "The ability to test and learn is key. ... So, do your homework, prepare, look around the corner and understand where you're going, but test and learn. As you test and learn, then you can go big."
The Wall Street Journal
(3/12)
What you can learn from a hugely successful Kickstarter campaign
A recent Kickstarter project to raise money for a movie based on the "Veronica Mars" TV show reached its $2 million funding goal at an unprecedented speed. Entrepreneurs who want to raise money on the crowdfunding platform can learn from the campaign's success by getting their customers involved, offering appealing prizes and making a fundraising video with a personal touch, according to attorney and startup adviser Jennifer Hill.
Entrepreneur online
(3/14)
A 5-step process for building a successful company
The first step to launching a successful startup is to come up with an idea that addresses a real problem and creates value, Phil Morle writes. "You will need to become completely unattached to your idea and instead be realistic and flexible," he writes. Afterward, you should develop and test your product and make your operations as efficient as possible before scaling your business.
Dynamic Business online (Australia)
(3/14)
How to create a culture of innovation at your company
Your business will be more creative in the long run if you nurture a culture that encourages innovation, Les McKeown writes. You can establish this sort of culture by assembling cross-functional teams to address issues and taking the time to learn from past projects. "As any good sports coach will tell you, there is as much to learn from how you succeeded as there is in uncovering why you failed," he writes.
Inc. online (free registration)/The Synergist blog
(3/13)
Behaviors that will lead to failure
You are likely to fail to achieve your goals if you avoid taking risks or allow distractions to divert your attention, Kirstin O'Donovan writes. Other critical mistakes include being impatient and quitting when challenges arise. "[T]he key is to not give up, but instead look for another route if it doesn't work out the way you wanted," she writes.
Lifehack.org
(3/14)
Doing something halfheartedly will bring you half the results."

-- Kirstin O'Donovan, founder of TopResultsCoaching, writing at

Lifehack.org

.
Please contact one of our specialists for advertising opportunities, editorial inquiries, job placements, or any other questions.