Obama urges Congress to delay spending cuts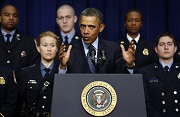 Obama/Reuters
President Barack Obama today urged congressional lawmakers to pass a short-term measure delaying the "sequestration" spending cuts, in order to give Republicans and Democrats time to hammer out a lasting compromise deal. With Congress out of session until next week, the president staged a media-friendly event surrounded by emergency workers, whose jobs he said would be put at risk by the cuts. "If these cuts go into effect, hundreds of thousands of jobs could be lost and middle class families all across the nation will feel the devastating impact," Obama said.
The Washington Post
(2/19),
The Washington Times
(2/19)
Share:





Other News
Congressional GOP is not running away from sequestration
The Hill

(2/19)




Share:

         
Simpson and Bowles cook up a new deficit plan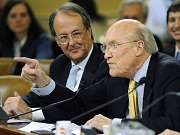 Bowles, Simpson/Reuters
Former deficit panel chairmen Alan Simpson and Erskine Bowles will today offer a new vision for reducing America's deficit, in a bid to shame congressional lawmakers from both parties into action. "The idea of a grand bargain is at best on life support," Bowles said. "It seems like both sides are beginning to retreat to their own talking points. This may be good politics, but it doesn't put us any closer to having our fiscal house in order."
Politico (Washington, D.C.)
(2/19),
The Wall Street Journal
(2/19)
Share:





Republicans want visa-tracking system as part of immigration reforms
The Wall Street Journal

(2/18)




Share:

         
Online sales-tax bill could be sidelined by broader reform effort
The Hill/Hillicon Valley blog

(2/18)




Share:

         
Meet the man Democrats hope will keep the Senate blue in 2014
The New York Times (tiered subscription model)

(2/18)




Share:

         
3 ways to help revive the U.S. economy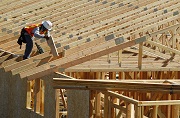 Reuters
There are three key "tailwinds" that could help carry the U.S. economy back to health, says Janet Yellen, the vice chair of the Federal Reserve. Fiscal policy, housing investment and consumer confidence could all make a big difference to the nation's economic trajectory, Yellen argues.
The Washington Post/WonkBlog
(2/19)
Share:





SNL's "Fox and Friends" and Obama's "doozie" of a speech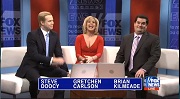 NBC.com
The "Saturday Night Live" crew parodies the "Fox and Friends" team's take on President Barack Obama's State of the Union address, in part by playing the speech backward in search of hidden messages. "Isn't this man supposed to be a great speaker? Then how come only half the people there were clapping?" asks the "SNL" version of Gretchen Carlson.
NBC.com
(2/16)
Share:





Please contact one of our specialists for advertising opportunities, editorial inquiries, job placements, or any other questions.