Foreign hackers are after your data, the White House warns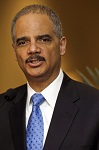 Holder/Reuters
The White House is taking a tougher line with China and other countries over cyberattacks on U.S. firms, saying that widespread hacking is taking place and putting American companies at a disadvantage. "There are only two categories of companies affected by trade-secret theft: those that know they've been compromised and those that don't know it yet," Attorney General Eric Holder said.
The Wall Street Journal
(2/21)
Share:





Security professionals warn of flaws in congressional networks
Capitol Hill is a ripe target for hackers intent on undermining the U.S. government by gaining access to its secrets, and experts say not enough is being done to protect it from cyberattack.
The Hill/Hillicon Valley blog
(2/21)
Share:





Democrats are narrow favorites to hold Senate in 2014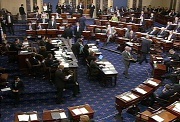 U.S. Senate TV via Reuters
Nate Silver breaks out his crystal ball and peers into the Senate's future, offering his projections for all of the 2014 Senate races. Republicans are likely to gain four or five seats, Silver writes, just shy of the six seats they need to regain control. "Considering the uncertainty in the landscape, estimates from betting markets that Democrats have about a 63 percent chance of holding their majority appear to be roughly reasonable," he writes.
The New York Times (tiered subscription model)/FiveThirtyEight blog
(2/20)
Share:





Bang, bang, your legislation's dead
Sometimes, Republican and Democratic politicians like to break out their rifles and literally blast holes in their opponents' legislation. This video gallery includes clips of Montana Gov. Brian Schweitzer blowing away the REAL ID Act, Sen. Joe Manchin pouring lead into a copy of proposed "cap and trade" legislation, and a Missouri state representative using a proposed gun-control bill for target practice.
Comedy Central/Indecision blog
(2/20)
Share:





Please contact one of our specialists for advertising opportunities, editorial inquiries, job placements, or any other questions.