Lew is confirmed by Senate as Treasury secretary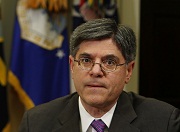 Lew/Reuters
The Senate voted 71-26 to confirm President Barack Obama's nomination of Jack Lew as secretary of the Treasury Department, replacing Timothy Geithner. Lew is a former director of the Office of Management and Budget and more recently served as Obama's chief of staff. In recent weeks, Republicans questioned Lew closely about his work at Citigroup.
The Washington Post
(2/27)
How Much Do You Really Need to Make? The Answer May Shock You
Rather than focus on what you can afford to pull out of the business to cover your living expenses, you need to focus on how much you need to earn at your business in order to afford the lifestyle you want to have. This is where the Personal Earnings Goal, or PEG, comes into play. Learn how to calculate your PEG and find out how much you really need to make.
The growing risk of being a CFO
The range of legal liability attached to the CFO is widening, making the position riskier than ever, write John Carney and Francesca Harker of BakerHostetler. They note that the Securities and Exchange Commission "increasingly is pursuing claims against CFOs that do not allege actual wrongdoing" by targeting subordinates' action and alleging that the CFO "either certified the resulting reports or failed to implement adequate internal safeguards."
CFO.com
(2/26)
Building Workplace Trust 2015
Interaction Associates' 6th annual research study tracking trust on the job, Building Workplace Trust, is out, and more than half of employees surveyed give their organizations low marks for trust and leadership. Yet this year's findings again point to how high trust leads to better outcomes and financial results — and even boosts innovation.
The underrated leadership quality of resilience
Resilience -- physical, emotional and spiritual -- often means the difference between having a great idea and bringing that idea to fruition, writes John McKinley, manager of the Global Fellows Program at Acumen Fund. "We need to remain focused on building leaders who have the resilience to face stubborn problems head on for lasting social impact," McKinley writes.
Harvard Business Review online/HBR Blog Network
(2/26)
What you do on the weekend makes you successful during the week
Weekend activities need to rejuvenate you for the coming week, not exhaust you in advance, Jacquelyn Smith writes. Executives interviewed for this post don't let go of the office completely; they check e-mail. However, activities such as exercise, family and friend time and volunteerism are necessary to recharge.
Forbes
(2/22)
Transformational Journeys: Modern Business Planning
Harvard Business Review explores why CFO's and their finance organizations must adapt to the changing landscape of their markets and how big data, organizational collaboration, and new cloud-based planning and analysis technologies are driving successful change.
Click here to access the report.
The ROI of Privacy with TRUSTe Solutions
Investment in a Data Privacy Management Platform can deliver significant, positive financial returns for corporate bottom lines. The "Total Economic Impact (TEI) of TRUSTe" Study explains how Forrester Analysts calculated a 151% ROI for TRUSTe customers. Download the study now.
Weekends are a great chance to reflect and be more introspective about bigger issues."

-- Spencer Rascoff, CEO of Zillow, as quoted by

Forbes
Please contact one of our specialists for advertising opportunities, editorial inquiries, job placements, or any other questions.