Lew is confirmed by Senate as Treasury secretary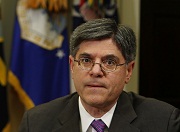 Lew/Reuters
The Senate voted 71-26 to confirm President Barack Obama's nomination of Jack Lew as secretary of the Treasury Department, replacing Timothy Geithner. Lew is a former director of the Office of Management and Budget and more recently served as Obama's chief of staff. In recent weeks, Republicans questioned Lew closely about his work at Citigroup.
The Washington Post
(2/27)
5 Cures for Business Growing Pains
A growing business is a successful business, but it comes with its own set of complications. Growing pains can arise from new employees, added roles and responsibilities, and a premium on office space. Read this informative e-book for five practical tips to managing your growing office space.
The growing risk of being a CFO
The range of legal liability attached to the CFO is widening, making the position riskier than ever, write John Carney and Francesca Harker of BakerHostetler. They note that the Securities and Exchange Commission "increasingly is pursuing claims against CFOs that do not allege actual wrongdoing" by targeting subordinates' action and alleging that the CFO "either certified the resulting reports or failed to implement adequate internal safeguards."
CFO.com
(2/26)
The underrated leadership quality of resilience
Resilience -- physical, emotional and spiritual -- often means the difference between having a great idea and bringing that idea to fruition, writes John McKinley, manager of the Global Fellows Program at Acumen Fund. "We need to remain focused on building leaders who have the resilience to face stubborn problems head on for lasting social impact," McKinley writes.
Harvard Business Review online/HBR Blog Network
(2/26)
What you do on the weekend makes you successful during the week
Weekend activities need to rejuvenate you for the coming week, not exhaust you in advance, Jacquelyn Smith writes. Executives interviewed for this post don't let go of the office completely; they check e-mail. However, activities such as exercise, family and friend time and volunteerism are necessary to recharge.
Forbes
(2/22)
Weekends are a great chance to reflect and be more introspective about bigger issues."

-- Spencer Rascoff, CEO of Zillow, as quoted by

Forbes
Please contact one of our specialists for advertising opportunities, editorial inquiries, job placements, or any other questions.