Webinar—The Time is Now: Mobilizing for Fixed Income & Options Reporting Requirements

Wed Mar 20, 2013 @ 4PM EDT—Join Deanna Flores of KPMG and Artie Wolk of SunGardWall Street Concepts for an interactive webinar hosted by Scivantage. This complimentary, one-hour session will offer critical insight into how to best prepare for the final Fixed Income and Options cost basis reporting requirements to ensure your firm is fully mobilized for a successful 2014 tax season. Register Now!
CMBS takes off in Chicago
Commercial mortgage-backed securities loan volume could reach as high as $4 billion in Chicago this year, said Joe McBride, an analyst at Trepp. If so, it would be the most since 2007. CMBS demand has been up as investors seek higher-yielding investments amid persistently low interest rates.
Crain's Chicago Business
(3/18)
Deutsche Bank will sell muni-bond trustee business to U.S. Bank
U.S. Bank entered into a definitive agreement with Deutsche Bank to acquire the German bank's municipal bond trustee business. "This transaction complements the existing U.S. Bank municipal bond trustee business and will further strengthen our position as the number one provider of municipal trustee and agency services in the nation," said Bryan Calder of U.S. Bank, which expects the deal to add roughly $57 billion in assets to its portfolio. The deal is expected to close in the third quarter.
The Bond Buyer (special access for readers of SIFMA SmartBrief)
(3/18)
Southington student wins InvestWrite contest in Connecticut
Eighth-grader Mark Murdy wrote an essay about advertising on Facebook to win first place in Connecticut in the SIFMA Foundation's InvestWrite challenge. "I found out that they made money through ads and one of the best is the Facebook Exchange," Murdy said. "It allowed them to make trades between other corporations to help get personal information about Facebook users. They could post ads about what you want to buy with trades online." SIFMA Foundation Executive Director Melanie Mortimer said the InvestWrite contest helps reinforce language arts.
Record-Journal (Meriden, Conn.)
(3/18)
Embrace Disruptive Innovation
Traditional business is constantly being impacted by overwhelming and sudden shifts in the marketplace. This new normal is "disruptive innovation". Read this white paper to learn what disruptive innovation is and how your company can use cloud ERP to stay in the game.
Download the white paper >
Economists expect Fed to keep rates low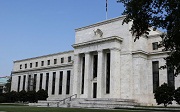 Reuters
Ahead of the Federal Reserve's two-day meeting this week, economists expect the central bank to maintain historically low short-term interest rates, despite signs of a strengthening economy. Unemployment remains at 7.7%, and at previous meetings, the Fed has pledged to keep policies in place until unemployment drops to 6.5%, provided inflation remains mild.
The Washington Post/The Associated Press
(3/19)
SEC nominee White has bipartisan support ahead of panel vote
Democrats and Republicans have expressed support for Mary Jo White ahead of a committee vote on her nomination to lead the Securities and Exchange Commission. An easy committee vote could lead to a quick Senate confirmation, says Mark Calabria of the Cato Institute. "If they get her through the committee with a unanimous vote, then I suspect they'll try to move her to the floor the next day," Calabria said.
Bloomberg
(3/19)
GOP economist reportedly is examined for SEC post
Michael Piwowar, the Senate banking committee's head Republican economist, reportedly is being vetted for a spot on the Securities and Exchange Commission. If Piwowar is nominated and confirmed, he will be the only economist on a panel that traditionally comprises lawyers. He could occupy the seat of GOP Commissioner Troy Paredes, whose term ends in June.
Bloomberg
(3/18)
Get with the flow. How payment processing affects cash flow.
Cash flow is the lubricant of business. Without a healthy cash flow, business dries up. It stops. It can't function. Which is why it is vital to keep the revenues coming in as the expenses go out. But there's one aspect of cash flow that many of us are not aware of. It is how managing credit cards and other such non-cash payments affect cash flow. Turns out it has a huge affect. Download the free guide today.
What do elite advisors know?

Personal recommendations go further than sales pitches. Second opinions make great first impressions. To learn more about The Hidden Opportunities for Today's Advisor, download our white paper. Are you First Clearing empowered?

First Clearing, LLC is a registered broker-dealer and non-bank affiliate of Wells Fargo & Company. This material is for broker-dealer and financial professional use only. First Clearing does not provide services to the general public. 0313-01849
Raymond James is latest to offer hybrid adviser plan
Raymond James Financial Services is set to begin offering a payment structure to high-end financial advisers. The hybrid plan allows advisers to collect a commission on some product sales as well as a money management fee. Advisers compensated this way will be registered as brokers with the Financial Industry Regulatory Authority, as well as registered investment advisers with the Securities and Exchange Commission.
Reuters
(3/18),
InvestmentNews (free registration)
(3/18)
Over one million financial leaders read SmartBrief
SmartBrief helps marketers reach over one million financial business leaders daily. Whether you need to showcase your brand, position your thought leadership, or drive demand, we have an advertising solution to meet the need. Download our Industry Media Kit.
GFMA Webinar: Global LEI Developments and Deadlines -- 8 a.m. EDT THURSDAY
SIFMA's global affiliate, GFMA, is hosting a webinar to help financial market participants prepare for the critical implementation of a global legal-entity identifier (LEI). Recently, there have been several important developments from the U.S. Commodity Futures Trading Commission, other global regulators, and the LEI Regulatory Oversight Committee. Further, important deadlines under the CFTC's Swap Reporting and Recordkeeping rule are quickly approaching. Participate in this timely webinar to receive expert summary and analysis of the latest regulatory developments and initiatives.
SIFMA AMG Clearings Conference -- April 18 -- New York City
As the swaps industry transitions to a cleared environment, asset managers must prepare to operate in a new ecosystem. Some managers are already clearing, while others are in the midst of preparations. Join SIFMA's Asset Management Group (AMG) for an in-depth discussion, Putting the Clear in Central Clearing: An Overview of Transition to Clearing for Asset Managers. Designed specifically for the buy-side, this intensive half-day program will feature insights from Category 1 and 2 Entities who have already or are just about to transition, as well as specific discussions on counterparty risk associated with selecting futures commission merchants (FCMs). CLE credits are available.
Please contact one of our specialists for advertising opportunities, editorial inquiries, job placements, or any other questions.