U.S. economy steams slowly ahead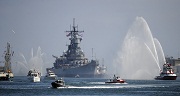 Reuters
The U.S. economy is steaming ahead slowly and steadily, like an old battleship, Jeffry Bartash writes. An indicator this week is expected to reveal continued strength in the housing market as measured by construction. Meanwhile, a business-outlook gauge is projected to turn modestly positive this month, from negative last month.
MarketWatch
(2/17)
Share:






Treasury cites higher foreign investment in December
Concerns about the "fiscal cliff" apparently helped drive stronger international purchases of U.S. financial assets, including stocks and bonds, during December. "The significant increase in December is a reflection of the heightened concern among global investors about the U.S. economy being pushed into a recession by the 'fiscal cliff,' " said Millan Mulraine of TD Securities. "Investors who feared the adverse impact of a U.S. economic slowdown on global activity fled to the safe haven of Treasurys."
Bloomberg
(2/15)
Share:






SEC anti-fraud software is set to debut this year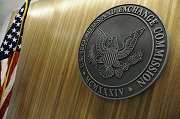 Reuters
The Securities and Exchange Commission will launch this year fraud-detection software to find accounting anomalies and hedge fund performance that don't line up with investment strategies. The software analyzes real-time data streamed to the agency from exchanges and uses a model that the SEC has been developing since 2011. "It is a model that allows us to discern whether a registrant's financial statements stick out from the pack," Chief Economist Craig Lewis said.
The Washington Post
(2/15),
Financial Times (tiered subscription model)
(2/13)
Share:






Banks support nonprofit lender to small businesses
Minneapolis' Butter Bakery Cafe is finding its banks, Wells Fargo and Franklin Bank, still hesitant to lend. The small business turned to nonprofit lender Metropolitan Consortium of Community Developers for a loan to expand. The consortium is supported by Franklin, Wells Fargo and other banks that think companies helped by the group could one day become a commercial account.
Star Tribune (Minneapolis-St. Paul, Minn.)
(2/17)
Share:






Manage your talent like a sports team, former Tyco CEO says
Successful sports teams usually have a balanced roster of committed and talented players, former Tyco International CEO Edward Breen says. That's the same approach leaders should take in running their company, Breen explains. "There's no one individual going to make a company," he says. "So I always want to put people around me who I think are better than me, who will challenge me."
Knowledge@Wharton
(2/13)
Share:






5 keys to building a front-line-focused organization
Senior leaders who are committed to a front-line-focused organization must establish a vision that puts customers first, respect and encourage insight from front-line employees, and "obsess over talent," among other steps, write Noel M. Tichy and Chris DeRose in this book excerpt. Executives "must imagine what the ideal customer interaction will look like and ask where breakdowns may occur throughout the process, from generating customer awareness to building post-sale relationships," they write.
SmartBrief/SmartBlog on Leadership
(2/12)
Share:






Weed-seeking robots could be answer to farmers' problems
Herbicide-resistant "superweeds" are stymieing farmers with their ability to thrive despite use of chemicals. Researchers at the University of Nebraska have suggested a solution: weed-seeking robots. "The computer would know what species it's dealing with, the appropriate weed-control tool, and you'd be done with it," weed ecologist Steve Young said.
National Public Radio/The Salt blog
(2/14)
Share:






The right decision at the end of the day is what creates long-term sustainable shareholder value. If you keep that line at the tip of your tongue when you make a decision, you're generally going to have some pretty good results."

-- Edward Breen, former CEO of Tyco International, as quoted by

Knowledge@Wharton

Share:

         
Please contact one of our specialists for advertising opportunities, editorial inquiries, job placements, or any other questions.