Generic drug combo may improve breast cancer outcomes
Aromatase inhibitors and bisphosphonates each appear to improve outcomes among postmenopausal women with breast cancer, according to two studies in The Lancet, and combination treatment with the two complementary drugs could be even more effective. One study found that postmenopausal women who took aromatase inhibitors have a 40% lower risk of dying within 10 years, and recurrence was 30% lower than in those treated with tamoxifen. In a separate study, bisphosphonates were linked to 18% lower mortality.
The Washington Post (tiered subscription model)
(7/27)
Report: Health costs increase slower than core consumer prices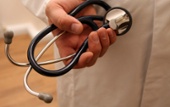 (Adam Berry/Getty Images)
Health care costs have increased at a slower pace than core consumer prices over the past five years, according to a Goldman Sachs research note. This is the first time that's happened since 1959, and economist Alec Phillips said the trend can be partly attributed to government reductions in Medicare and Medicaid payments and slower wage growth in the health care sector.
Bloomberg
(7/23)
Medicare medical home project falls short of goals, report says
A project to coordinate care for high-risk Medicare patients at federally funded community health centers has not reached its goal, with only 69% of centers still participating attaining full medical home accreditation. The target was 90%. The $57 million initiative saw increases in hospital admissions and emergency department care, the Rand Corp. study found, but the authors said pent-up demand for care might explain the increases.
Kaiser Health News
(7/27)
Telemedicine, predictive analytics to help detect high-risk patients
Dell Services is partnering with TechSpring, a technology innovation center established by Baystate Health, to unveil initiatives that will use telemedicine and predictive analytics to boost the care being delivered to chronically ill patients. Under the deal, demographic, clinical and claims information will be used by Dell to assess the population health risk for chronic conditions, and Baystate Health will use the information to identify high-risk patients and offer them targeted care services. Telehealth initiatives will also be piloted by the entities for selected patients to cut care costs.
BeckersHospitalReview.com
(7/24)
Video: Focus on the Changing Landscape of Health Care
Today's health care environment is much different from the way it was just a few years ago. Just like most areas of medical practice, nuclear medicine and molecular imaging have to adapt to this new environment. This video, shown at the opening plenary of SNMMI's 2015 Annual Meeting in Baltimore, focuses on what this means for the profession.
SNMMI-TS launches Quality Initiative
The Technologist Section of SNMMI has launched a new, multi-year Quality Initiative. This initiative will help technologists adjust to the changing health care environment by developing a quality system focused on evidence-based outcomes for the nuclear medicine community that will advance patient care.
| | |
| --- | --- |
| | Self-trust is the first secret of success." |
The news summaries appearing in SNMMI SmartBrief are based on original information from multiple internet sources and are produced by SmartBrief, Inc., an independent e-mail newsletter publisher. The items above are not selected or reviewed by SNMMI prior to publication. Questions and comments may be directed to SmartBrief at snmmi@smartbrief.com.
Please contact one of our specialists for advertising opportunities, editorial inquiries, job placements, or any other questions.