Senate panel debates, approves bills supporting 21st Century Cures Act
The Senate is taking a piecemeal approach to the 21st Century Cures legislation approved by the House, with funding for the bill's mandates an especially sticky point. The House bill allocates $8.75 billion more in mandatory funding for the NIH over five years, but some Senate Republicans prefer to make the funding discretionary and subject to annual debate. The Health, Education, Labor and Pensions Committee unanimously approved seven pieces of legislation supporting provisions of the 21st Century Cures Act. "I think there's a sense of momentum ... and I get the sense that the committee's not done putting forward bills," says FasterCures Executive Director Margaret Anderson.
ScienceMag.org
(2/9),
STAT
(2/9)
Catch up on content from Partnering for Cures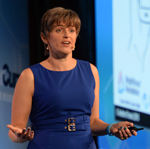 Cori Lathan (FasterCures)
Did you miss a session at November's Partnering for Cures conference? Don't worry -- you can watch the videos online. If you have 10 or 20 minutes to spare, check out the inspiring Time=Lives talks or the interesting mashups of leaders from different sectors of medical research. Or, if you want to take a deep dive into an issue such as precision medicine, patient-centricity or venture philanthropy, watch the panel videos to hear multiple viewpoints from experts on the topics. Watch now.
NIH requires early-stage clinical trials to include females
Biomedical researchers working with animals will be required to use both male and female animals for studies funded by the NIH. Eighty percent of drug studies involving mice use males only, which could lead to approval of drugs that have different effects on women than were seen in studies, says Janine Clayton, director of the NIH's Office of Research on Women's Health. The policy will not ameliorate all sex-based research outcomes, but it will help, neurologist Rhonda Voskuhl said.
National Public Radio
(2/10)
Zika threat prompts broad data-sharing initiative

(Marvin Recinos/AFP/Getty Images)
An international coalition including the NIH, scientific journal publishers, nonprofit groups and research institutes has agreed to share any data or study results that could help stop spread of Zika virus infections. "Public health threats require data sharing in the interest of the common good," said Bartha Knoppers, an expert on medical data-sharing at McGill University.
STAT
(2/10),
Agence France-Presse
(2/10)
FasterCures is an action tank that works across sectors and diseases to improve the effectiveness and efficiency of the medical research enterprise. FasterCures, a center of the Milken Institute, is nonpartisan and independent of interest groups.
Please contact one of our specialists for advertising opportunities, editorial inquiries, job placements, or any other questions.