Dog with rare spinal deformity found as a stray
Rescuers discovered a stray German shepherd with spinal deformities that left him with an abnormally short torso, a rare condition caused by compression of spinal tissue. The dog, winning hearts in his foster home, is called Quasimodo, and he will likely be available for adoption after other problems he incurred while a stray are addressed.
WCCO-TV (Minneapolis)
(1/30)
Other News
Canine influenza update: Thousands of cases across the US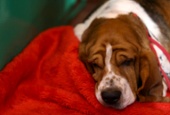 (Matt Cardy/Getty Images)
Thousands of US dogs have been affected by H3N2 canine influenza because "dogs, like people, move all around the world," AVMA President Dr. Joseph Kinnarney says. Most dogs have no symptoms or are only mildly affected, but in some cases, dogs need intensive treatment to recover. Infected dogs are contagious for up to three weeks -- longer than other influenza viruses -- even if they're not exhibiting symptoms. Dr. Kinnarney recommends the H3N2 vaccine series for at-risk dogs, which includes those regularly exposed to other dogs.
National Public Radio
(1/29)
It's Pet Dental Health Month! View AVMA's dental health resources
February is more than National Pet Dental Health Month: It's also an opportunity for veterinarians to educate pet owners on the importance of good dental health and strengthen and extend their relationships with clients. To help spread that message, the AVMA has a variety of tools to help veterinarians observe National Pet Dental Health Month in their clinics, including client handouts and brochures, social media tips and a press release for distribution to local media. These resources remind the public that routine cleanings not only can help prevent periodontal disease but also detect hidden health problems. View AVMA's Pet Dental Health: Veterinary Toolkit.
| | |
| --- | --- |
| | Lineage, personality, and environment may shape you, but they do not define your full potential." |
The news summaries appearing in Animal Health SmartBrief are based on original information from news organizations and are produced by SmartBrief, Inc., an independent e-mail newsletter publisher. The AVMA is not responsible for the content of sites that are external to the AVMA. Linking to a website does not constitute an endorsement by the AVMA of the site or the information presented on the site. Questions and comments should be directed to SmartBrief at avma@smartbrief.com.
Please contact one of our specialists for advertising opportunities, editorial inquiries, job placements, or any other questions.