What You Can Learn From Some of 2014's Top Innovators
Ready to get inspired for 2015? The experiences of these 6 innovative leaders can help you chart a smarter, more successful way forward with your business. Read the featured article.
ONC reveals increase in acute care hospitals with basic EHR platform
An Office of the National Coordinator for Health IT brief based on American Hospital Association data showed that 76% of U.S. nonfederal acute care hospitals used at least a basic EHR with notes system last year, up by 27% from a year earlier. The data also revealed that the percentage of hospitals with comprehensive EHR platforms rose to 34.4% in 2014 from 25.7% in 2013.
Health Data Management
(4/21)
Sonography among medical careers that pay off
Two-year degrees may pay off in some cases, leading to a lucrative career for a reasonable cost, writes finance columnist Liz Weston. According to the Bureau of Labor Statistics, diagnostic medical sonography is among careers accessible with an associate degree. Median annual earnings are $65,860. Other well-paying professional roles include dental hygienists, who may earn $70,210; occupational therapy assistants, with median annual pay of $53,240; and physical therapist assistants, with median yearly salaries of $52,160.
Reuters
(4/20)
Cardiologist sees "Quiet Revolution" in patient care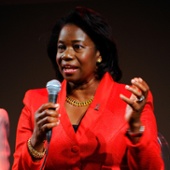 Mieres (Andrew H. Walker/Getty Images)
Dr. Jennifer Mieres said she's had to "hang up her stethoscope," but the cardiac imaging specialist continues her efforts to educate and engage patients, most recently as executive producer of PBS' "Rx: The Quiet Revolution." "My goal was to change the health care conversation," she said. "No one is really talking about the true meaning of that patient partnership. A large percent of health care outcomes occur outside of the doctor/patient or medical team encounters. So how do you empower people? How do you get them to be partners?" Mieres is a senior vice president with North Shore-LIJ Health System and a Hofstra University professor of cardiology and population health.
New York Press
(4/16)
CMS launches patient-experience star ratings on Hospital Compare
The CMS has updated its Hospital Compare website to include a patient experience star rating system, designed to help patients make comparisons among Medicare-accredited facilities. Hospital Compare ranks almost 3,500 acute care hospitals according to patient experience, which includes factors such as communication between clinicians and patients, cleanliness of the hospital, and responsiveness of the hospital staff. The results are based on the Hospital Consumer Assessment of Healthcare Providers and Systems Survey.
Medscape (free registration)
(4/17)
Legislative & Regulatory Update
Surgeon general wants U.S. to focus on disease prevention
Surgeon General Vivek Murthy said he wants the U.S. to focus more on prevention of health problems, and his goal is to reduce chronic conditions, including heart disease, obesity and diabetes, by promoting higher levels of physical activity. He said he will issue a call to action on walking and suggested communities find ways to become more walkable.
USA Today
(4/22)
| | |
| --- | --- |
| | He can who thinks he can, and he can't who thinks he can't. This is an inexorable, indisputable law." |
Please contact one of our specialists for advertising opportunities, editorial inquiries, job placements, or any other questions.