App designed to help docs weather demands of work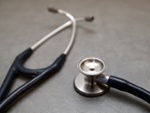 (Carl Court/Getty Images)
A mobile application from TheHappyMD.com is designed to help physicians deal with stress. The Burnout Proof app connects physicians with video and audio resources and basic life balance techniques to help them avoid burnout. Tools include a chair yoga routine and meditation guidance.
BeckersHospitalReview.com
(7/15)
Legislative & Regulatory Update
CDC: People with insurance more likely to get preventive care
People who have health insurance are up to three times as likely as those who do not to get preventive care, CDC researchers reported in Morbidity and Mortality Weekly Report. Having either private or public insurance made it more likely people would get preventive services such as tests for blood pressure, cholesterol and diabetes; screenings for breast, cervical and colon cancer; dietary counseling; and hepatitis vaccinations.
HealthDay News
(7/16)
| | |
| --- | --- |
| | Desire is the key to motivation, but it's determination and commitment to an unrelenting pursuit of your goal -- a commitment to excellence -- that will enable you to attain the success you seek." |
Please contact one of our specialists for advertising opportunities, editorial inquiries, job placements, or any other questions.