3D TEE best for monitoring Lariat patients for leaks, study finds
Atrial leaks occurred in 20% of patients within one year of treatment with SentreHeart's Lariat device used to close off the left atrial appendage, according to a study from the Texas Cardiac Arrhythmia Institute. Of 99 patients in the study, three suffered neurological events due to a leak. The researchers noted that 3D transesophageal echocardiogram is better at identifying the leaks than 2D TEE and that the 3D approach should be used for patient monitoring. The findings were discussed at a meeting of the Heart Rhythm Society.
MassDevice.com (Boston)
(5/14)
Study: Pulmonary valve implant improves outcomes
Most patients who received the Melody valve during transcatheter pulmonary valve replacement experienced improved hemodynamic and clinical outcomes, according to a study published in Circulation. The researchers monitored 148 Melody valve recipients over 4.5 years using echocardiograms, radiographs and stress tests. In the short term, 140 of the patients had no pulmonary regurgitation and long term, 37 patients required right ventricular outflow tract reintervention and 14 patients had cardiac or blood infections.
CardiovascularBusiness.com
(5/11)
Online MS in Health Care Administration
Advance Your Career in Health Care. Study at Utica College. Offering 5 Specializations: Acute Care, Nursing Home Admin, Service Organizations, Health Care Advocacy, and Community Health. Curriculum may meet the course requirements for Nursing Home Administrator licensure.
Click here for more info.
EHRs may deliver on promise of better care, survey suggests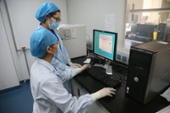 (AFP/Getty Images)
According to a Healthcare Information and Management Systems Society survey, 71% of nurses polled prefer using EHRs over paper records, and 72% think EHRs reduce medical errors. Research suggests EHRs do in some cases contribute to errors and that workflow can be a problem, but addressing interoperability and other issues should help.
EHR Intelligence
(5/11)
Other News
FEATURED VIDEO: The Traits of Very Successful Leaders
Someone who is a good leader knows how to get work done, but a great leader is someone who inspires employees to do their best all the time. Linda Rottenberg, the co-founder and CEO of Endeavor, tells us about some common traits among successful leaders. Watch the video now.
Sonogram helps parents prepare for infant's congenital bladder defect
Lila Wonsmos was born with bladder exstrophy, a rare condition in which the fetus' bladder is exposed outside of the body, but thanks to a sonogram at 22 weeks and follow-up, Lila's parents were prepared. The family was able to prepare to care for her and make treatment arrangements. Her treatment involved surgery to place the bladder inside the pelvis and abdomen.
FoxNews.com
(5/13)
Interested in Starting Your Own Mobile Ultrasound Business?

Considering your own mobile ultrasound business? With Ancillary Services on the rise & the industry expected to hit $2.6B by 2016, now's the time! With 1on1 coaching & 60% savings on the startup costs, our clients have the tools to succeed. Want to learn more? Call 877.702.2084 or click here.
Legislative & Regulatory Update
AMA supports bill to stop ICD-10 transition
The American Medical Association has expressed its support for the Cutting Costly Codes Act of 2015, proposed by Rep. Ted Poe, R-Texas, that would stop HHS from implementing the ICD-10 codes. Dr. Steven Stack, the AMA's incoming president, said that ICD-10 problems are substantial enough that ICD-10 should not be rolled out. He suggested that the industry wait for ICD-11 and transition to the codes properly.
Healthcare Finance News
(5/15)
| | |
| --- | --- |
| | Vision is the true creative rhythm." |
Please contact one of our specialists for advertising opportunities, editorial inquiries, job placements, or any other questions.