Study questions value of treating early form of breast cancer
A study reported in JAMA Oncology found treatment may not change outcomes for women diagnosed with a very early form of breast cancer. Women with ductal carcinoma in situ had a 3.3% chance of dying within 20 years, regardless of which treatment they received. Mortality was higher, however, among younger women and black women. Dr. Otis W. Brawley, chief medical officer at the American Cancer Society, said it's clear the condition has been overtreated, but a large clinical trial is needed to compare mastectomy, lumpectomy and no treatment before clinicians and patients should consider not treating the disease.
The New York Times (free-article access for SmartBrief readers)
(8/20),
HealthDay News
(8/20)
Working long days tied to cardiovascular risks
Two analyses reported in The Lancet reveal that people who work long hours are putting their cardiovascular health at risk. One analysis found those who work at least 55 hours a week have a 13% greater risk of developing heart disease than those who work standard schedules. The other dataset showed those who worked at least 55 hours a week were one-third more likely to experience a stroke, while those who worked 41 to 48 hours had 10% higher risk of stroke. Dr. Paul Wright of North Shore University Hospital acknowledged that reducing work hours is often not possible, so he urged people to focus on modifiable risk factors, such as eating well and exercising.
HealthDay News
(8/20)
[Free eBook] Hacking Value Delivery: The CIO and the Age of the Customer
CIOs today have a wealth of opportunity available to them in the Age of the Customer, and they play an even more paramount role in their organization as enterprises become increasingly digital and customer-centric. Unfortunately, CIOs are also up against outdated notions of their role - and limited budgets. As a result, too few CIOs have fully embraced the opportunity to drive their businesses into the customer age. Learn how to make the cultural change to a customer-first approach with this free eBook. Get it now.
Technique for closing incision may eliminate complications after spinal fusion surgery
Researchers found a new type of incision closure could lower the rate of infection in scoliosis patients who undergo spinal fusion surgery. Findings show that 19% of the 42 patients who had the conventional incisions closure experienced wound complications while none of the patients who had the new flap closure had any infections or complications. The study, which analyzed data from 76 non-idiopathic scoliosis patients ages 8 to 25, appeared in the Journal of Pediatric Orthopaedics.
United Press International
(8/20)
Study: Patients with heart failure report continued symptoms after hospital stay
Patients with heart failure who are discharged from the hospital often continue to have both traditional symptoms and symptoms not typically associated with the condition that physicians may not adequately address, researchers reported in JAMA Internal Medicine. The study found less than 25% of patients said they were familiar with palliative care and many mistakenly equated it with hospice care or thought it was only for cancer patients.
Medscape (free registration)
(8/19)
Crunching the Numbers
Your passion may have led you into business, but tracking cash flow and other key numbers will help keep your company up and running. Read Boomtown: Think Like a Startup
Telemedicine program boosts care experience of hip, knee replacement patients
A study of the OrthoCare Program launched by Bon Secours St. Mary's Hospital in Richmond, Va., with VOX Telehealth found the initiative enhanced the care experience and outcomes of patients who had hip and knee replacement surgeries at the hospital. The telehealth initiative, which begins before surgery and extends to up to three months post-surgery, resulted in shorter hospital stays and more direct-to-home discharges, and 91% of patients said the program helped manage their expectations of the procedure.
Healthcare Informatics online
(8/19)
Health Insurance Plan Company News
FDA expands approval of Raptor's cystinosis drug
Raptor Pharmaceutical has won FDA approval for the expanded use of delayed-release Procysbi, or cysteamine bitartrate, in pediatric nephropathic cystinosis patients ages 2 to 6. The approval was backed by trial data showing children who received a 12-month treatment of Procysbi achieved long-term maintenance of kidney function and white blood cell cystine levels.
Pharmacy Times online
(8/19)
HHS to hold ICD-10 coding call for providers as transition looms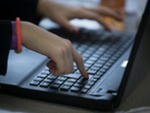 (Matt Cardy/Getty Images)
HHS' Medicare Learning Network is hosting a national call for medical, billing and administrative staff on Aug. 27 to offer final tips and guidance for the Oct. 1 transition to ICD-10 codes. Among the topics for the call are testing results, guidance handling claims that involve dates before and after the deadline, and additional resources.
Health Data Management
(8/19)
| | |
| --- | --- |
| | Your time is limited, so don't waste it living someone else's life." |
Product announcements appearing in SmartBrief are paid advertisements and do not reflect actual AHIP endorsements. The news reported in SmartBrief does not necessarily reflect the official position of AHIP.
Please contact one of our specialists for advertising opportunities, editorial inquiries, job placements, or any other questions.