Va. group seeks to open freestanding children's hospital
Most U.S. children's hospitals are affiliated with larger health systems, but the nonprofit Virginia Children's Hospital Alliance, which is supported by pediatricians, plans to build a freestanding, self-governing facility in the Richmond area. Experts say independent children's hospitals, which number about 50 in the U.S., may be vulnerable financially due to shaky Medicaid funding and are viable only in markets with a population base of 500,000 children.
Richmond Times-Dispatch (Va.)
(8/22)
9 Tips to Bring Order to Hospital Communication Chaos

On-call schedules, patient monitors, diverse mobile devices and healthcare IT systems all contribute to a web of information that is difficult to navigate and manage. This eBrief offers nine tips to bring order and improve patient care. Read the eBrief now >>
OpenNotes has potential to improve patient care, study says
The OpenNotes initiative has the potential to better connect patients and physicians and to improve patient safety without incurring significant extra cost, according to a report in the Joint Commission Journal on Quality and Patient Safety. Lead author Dr. Sigall Bell of Beth Israel Deaconess Medical Center and Harvard Medical School said OpenNotes is a philosophy and a commitment to transparency rather than a software package, so implementation could be as simple as printing out a copy of the visit note for patients.
Health Data Management
(8/20)
Study finds gender, racial disparities in physician workforce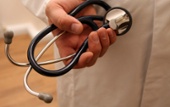 (Adam Berry/Getty Images)
A report published in JAMA Internal Medicine found that only 7% of the 16,835 medical school graduates in 2012 were Hispanic, 7% were black and 48% were women. In the same year, just 30% of practicing physicians were female, 5% were Hispanic and 4% were black. Women generally gravitate toward obstetrics, gynecology and family medicine while representing just 14% of trainees in orthopedics. Researchers note that a more diversified physician workforce is important to reaching underserved populations.
Reuters
(8/24)
Are you sharing files the wrong way?
Read this free infographic to see the negative side of not caring how your company sends files. Learn how to share better with others so that you can easily:
• Know file-size restrictions for email and the limitations of FTP.
• Avoid freemium services that put you at risk for data breaches.
• Discover the best way to share data and store it securely in one place.
Download the free infographic now.
5 drivers of health IT priorities in 2016
Dr. John Halamka, chief information officer at Harvard Medical School, identifies five key issues affecting the priorities of stakeholders in 2016: demand is increasing for support of personal software and devices; clinicians need better data-capture tools; the demand for IT resources and tools is outstripping the supply; IT departments need time and space to focus on user's needs and not federal regulations; and the cloud is where people want to work.
MedCityNews.com
(8/23)
How well do you know Adaptive Web Design?
Retailers of all sizes are now realizing what giants like Amazon have known for years: that the ultimate mobile web solution blends the best of all available methods into an adaptive approach. In this whitepaper, we answer:
• What is adaptive web design?
• How does it compare to other solutions in cost, effort, and business impact?
• How do I know if an adaptive approach is right for my business?
• What steps can I take to start down this path?
Access it now!
Universal influenza vaccine closer to reality

(Justin Sullivan/Getty Images)
Johnson & Johnson researchers have developed what they hope will become a universal influenza vaccine that protected animals from infection in initial tests. The vaccine targets a portion of the hemagglutinin molecule, rather than the target used in current vaccines that is subject to frequent mutation. The vaccine is far from human trials but shows promise. A universal influenza vaccine would mean a new vaccine would not be needed every season.
Chicago Tribune (tiered subscription model)/Bloomberg
(8/24)
How to Choose the Right Lighting for Machine Vision Applications
In a typical application, the lens is required to locate features within the field of view (FOV), ensure the features are in focus, maximize contrast and avoid perspective distortion. What may be adequate image quality for one application may be insufficient for another. Download this white paper to learn more about the fundamentals of using optics to optimize a machine vision application.
ACC Public Reporting Opportunity Ahead
Through its suite of NCDR clinical data registries and quality improvement programs, the ACC is helping institutions bridge gaps between science and practice to improve the quality of cardiovascular care they deliver. This year, the College is taking quality improvement to the next level by implementing a voluntary hospital public reporting effort based on registry data. Next month, hospitals participating in the CathPCI Registry and/or ICD Registry will have the option to take part in the ACC public reporting effort. The steps required to participate in the program and a list of the measures approved for reporting to the public are available on CVQuality.ACC.org. Metric data will first be made available privately to hospitals on their NCDR dashboard. After a minimum 30-day preview period, data for hospitals that voluntarily agree to publicly report will be posted on their CardioSmart.org Hospital Profile. Through this tool, patients will then be able to search, compare and select hospitals based on demographics and publicly reported data in order to understand the quality of care being provided in their area and make informed choices. The ACC encourages hospitals to take advantage of this new program to demonstrate their continuing commitment to quality improvement. Stay tuned for additional information about what it will mean to your facility to publicly report this data, how to take part, and the tools available to communicate your participation and improve your performance.
| | |
| --- | --- |
| | The harder the conflict, the more glorious the triumph." |
This news roundup is provided as a timely update to ACC members and partners interested in quality health care topics in the news media. Links to articles are provided for the convenience of the health care professionals who may find them of use in discussions with patients or colleagues. Opinions expressed in ACC Quality First SmartBrief are those of the identified authors and do not necessarily reflect the opinions or policies of the American College of Cardiology. On occasion, media articles may include or imply incorrect information about the ACC and its policies, positions, or relationships. For clarification on ACC positions and policies, we refer you to
ACC.org
.
External Resources are not a part of the CardioSource.org website. ACC is not responsible for the content of sites that are external to the ACC. Linking to a website does not constitute an endorsement by ACC of the sponsors or advertisers of the site or the information presented on the site.
Please contact one of our specialists for advertising opportunities, editorial inquiries, job placements, or any other questions.