With fresh avocados, it's easy to Love One Today

The next time your patients need a fresh source of naturally good monounsaturated fats, recommend an avocado. Learn more about avocado nutrition, and see the results of recent avocado studies at LoveOneToday.com.
Report: Incidence of E. coli, Salmonella infections drops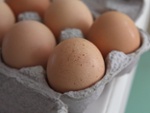 (Justin Sullivan/Getty Images)
The occurrence of infections associated with Salmonella typhimurium and with Shiga toxin-producing E. coli O157 in the U.S. declined 27% and 32% in 2014 compared with 2006 to 2008, CDC researchers wrote in Morbidity and Mortality Weekly Report. Despite the drop, infections from Salmonella javiana and Salmonella infantis increased more than twofold during the same period. The report also found a 13% increase in infections attributed to Campylobacter and a 52% rise in infections from Vibrio.
HealthDay News
(5/14)
General surgery risks don't increase with pregnancy
A study in JAMA Surgery found that pregnant women who had general surgery had about the same rates of complications and death as women who were not pregnant. The study examined data for 2,700 pregnant women and 517,000 women who were not pregnant during surgery from 2006 to 2011. The 30-day rates of death and complications for pregnant women were 0.4% and 6.6% compared with overall rates of 0.4% and 7.4%.
HealthDay News
(5/13)
Lose the endless admin. Keep your edge.

Premise Health, provider of worksite health and wellness services with over 40 years' experience, are pioneers in employer sponsored health and wellness. Join a team of knowledgeable, compassionate, like-minded professionals in a company that is changing the face and the place of the healthcare industry as we know it. Learn more!
Vital Signs from CDC
CDC releases its first national study on Hispanics' leading causes of death, disease prevalence, risk factors and access to health services in the US. This report shows that Hispanics have lower death rates overall, but are about 50% more likely to die from diabetes or liver disease than whites. Health risks like smoking vary among Hispanic subgroups. Birth place and social factors play a major role in Hispanic health. Recognizing differences within the Hispanic population and having culturally relevant resources available can help health care providers improve health outcomes for their Hispanic patients. Learn more, see more issues and subscribe.
| | |
| --- | --- |
| | It is not who is right, but what is right, that is of importance." |
Please contact one of our specialists for advertising opportunities, editorial inquiries, job placements, or any other questions.